Blog Home
Local North Valley Trails to Explore This Summer
You're not alone if you've been feeling cooped up lately. A lot has changed since this time last year, but one thing that remains the same is the beautiful parks and trails that surround our home here at Acero North Valley, just waiting to be explored! As we head into summer, things may look a little different due to the current environment, but we can still enjoy the beautiful outdoors while maintaining a safe social distance. Check out these nearby North Phoenix conservation areas, trails and nature preserves worthy of leaving the house for!
Phoenix Sonoran Preserve
Living at Acero North Valley puts you less than 10 minutes from the parking lot at the Phoenix Sonoran Preserve. You can pretty much admire the beauty of this outdoor oasis from your apartment balcony you're so close! Like most Arizona parks, the Sonoran Preserve is packed to the brim with giant cacti, great-horned owls, and all kinds of desert blossoms. As you trek along any of the 36 miles of Sonoran Preserve trail, don't get too lost with taking photos of all the natural beauty. Remember to lift your eyes, stop for a moment, and take it all in. The views are absolutely breathtaking!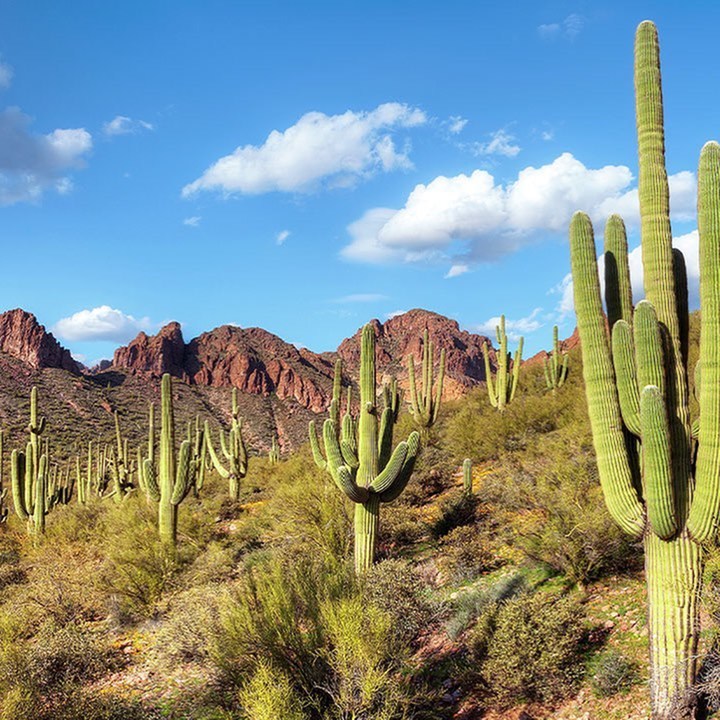 (Photo by @Inc.wearearizona)

Thunderbird Conservation Park
The Thunderbird Conservation Park, located in the Hedgpeth Hills, is also just a short drive from your new apartment! Boasting over 1,000 acres of desert life, this park is home to horseback riders, hikers, mountain bikers, and bird enthusiasts. There's something for everyone at the Thunderbird Conservation Park making it a lovely outdoor adventure. Whether you're aching for a 5-mile hike on the Coach Whip trail, or more of a brief stroll like that of the Chuckawalla or Ridgeline trail, you're bound to have a grand time.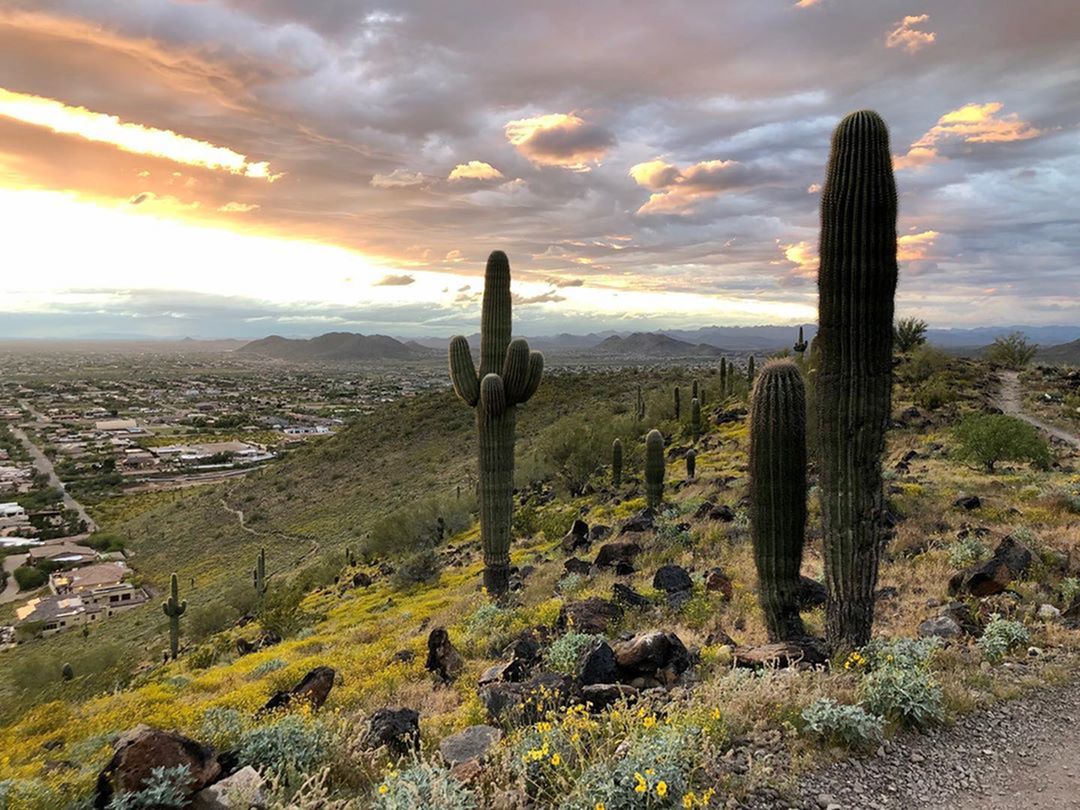 (Photo by @Mesilber1)
Lookout Mountain Preserve
Living up to its name, the Lookout Mountain Preserve is just the place if you're craving a stunning view of North Phoenix and an all-encompassing view of the valley. Part of the Phoenix Mountains Preserve, Lookout Mountain is small but mighty. The trail to the top is fairly short, but can pack a punch when considering the mountain's steepness. As you can imagine, the higher the trail elevation, the better the view (but also, the more work to get there!). It may take extra effort and energy, but we'd have to say the views make up for it!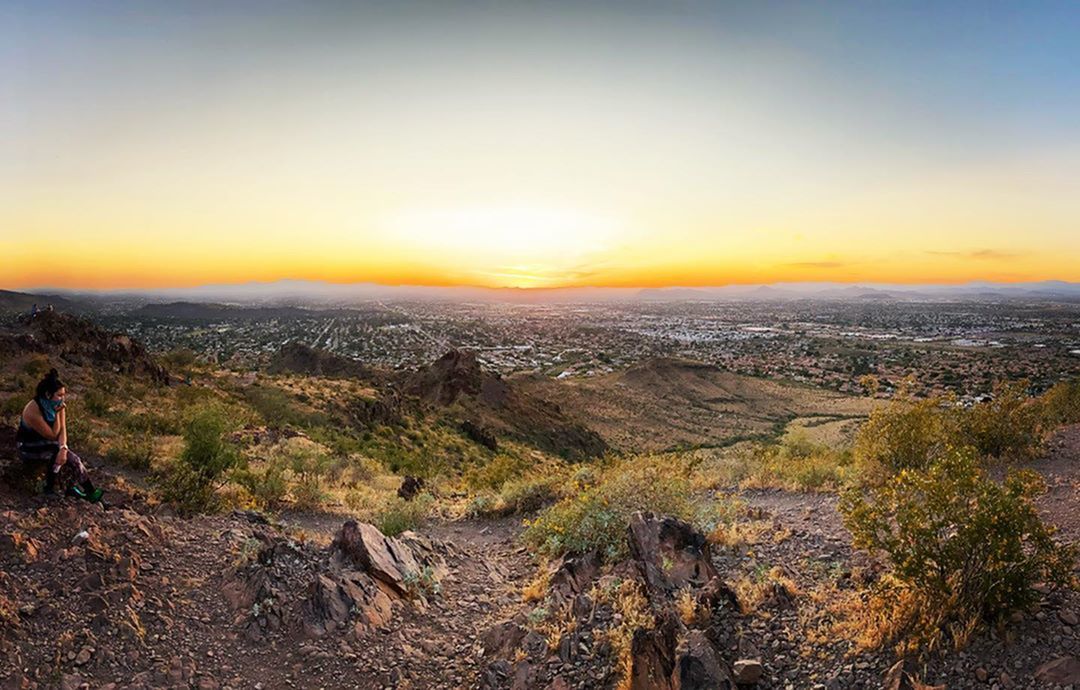 (Photo by @Andrewkurz_)
Hiking Safety
We would be doing you an injustice if we neglected to mention safety tips for hiking in the summer months here in Arizona, as well as amidst COVID-19. The national guidelines surrounding social distancing remains the same for parks and trails; stay home if you're exhibiting symptoms, observe recommended physical distancing of 6 feet while on trails at all times, and share the trail leaving adequate space for others! With regards to safe hiking as Phoenix temperatures rise, see the "Take a Hike, Do it Right" guidelines from the City of Phoenix. This includes hiking during the early morning or evening hours, monitoring the local forecast, and accounting for trail difficulty ratings before embarking on your hike.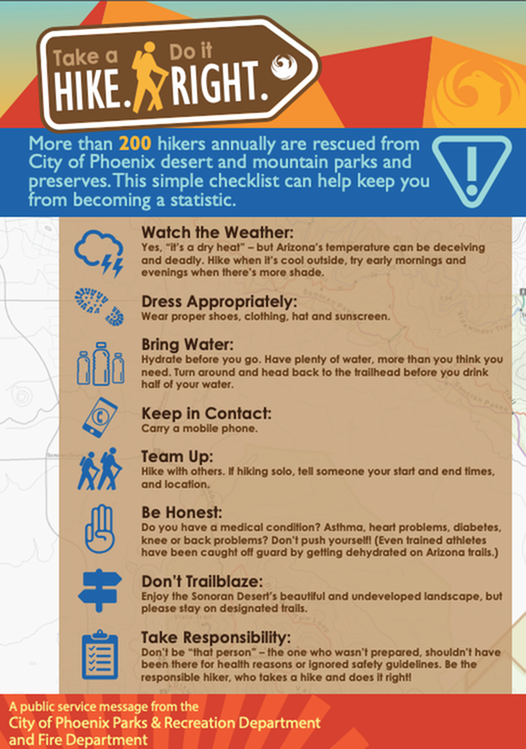 (Graphic by The City of Phoenix)



Get outside and enjoy the beautiful place you get to call home! These are just a few of the many trails, parks, preserves and conservation centers here in North Phoenix. Let us know your favorite local trail on Facebook or Instagram, and keep following the Acero North Valley blog here for more articles like this one. See you next time!