Blog Home
How to Transform Your Patio into A Desert Oasis
Nothing quite compares to Spring in the valley. The temperatures are slowly creeping higher and higher with each day, but in the early summer months like May and June, the weather is still tolerable (for the most part!). With great weather comes the desire to spend all day, or night, relaxing outdoors on the patio. That's why today we're going to help you transform your Acero North Valley balcony or patio into your favorite little outdoor oasis.
Map Out Your Patio
Every apartment suite at Acero North Valley has a beautiful, large, private patio or deck. The first step towards making your patio your new favorite spot to spend time is mapping out how you plan to optimize your outdoor space! Do you currently have patio furniture, such as chairs and a coffee table, rug, plants, etc? Are you starting fresh? If you are starting with a blank "patio canvas" and filling as you go, here's what we recommend: walk from inside your apartment to your patio, and once you're outside, determine where you would like to walk to in order to sit down. Do you want the small outdoor couch with a small end table near the door, or on the other side of the patio? Would you want a large plant? Bar-style seating or comfortable lounge seating? Once you have an idea of what furniture you want on your patio, use a measuring tape to determine how much space you'll anticipate needing for each item. Next, it's time to shop!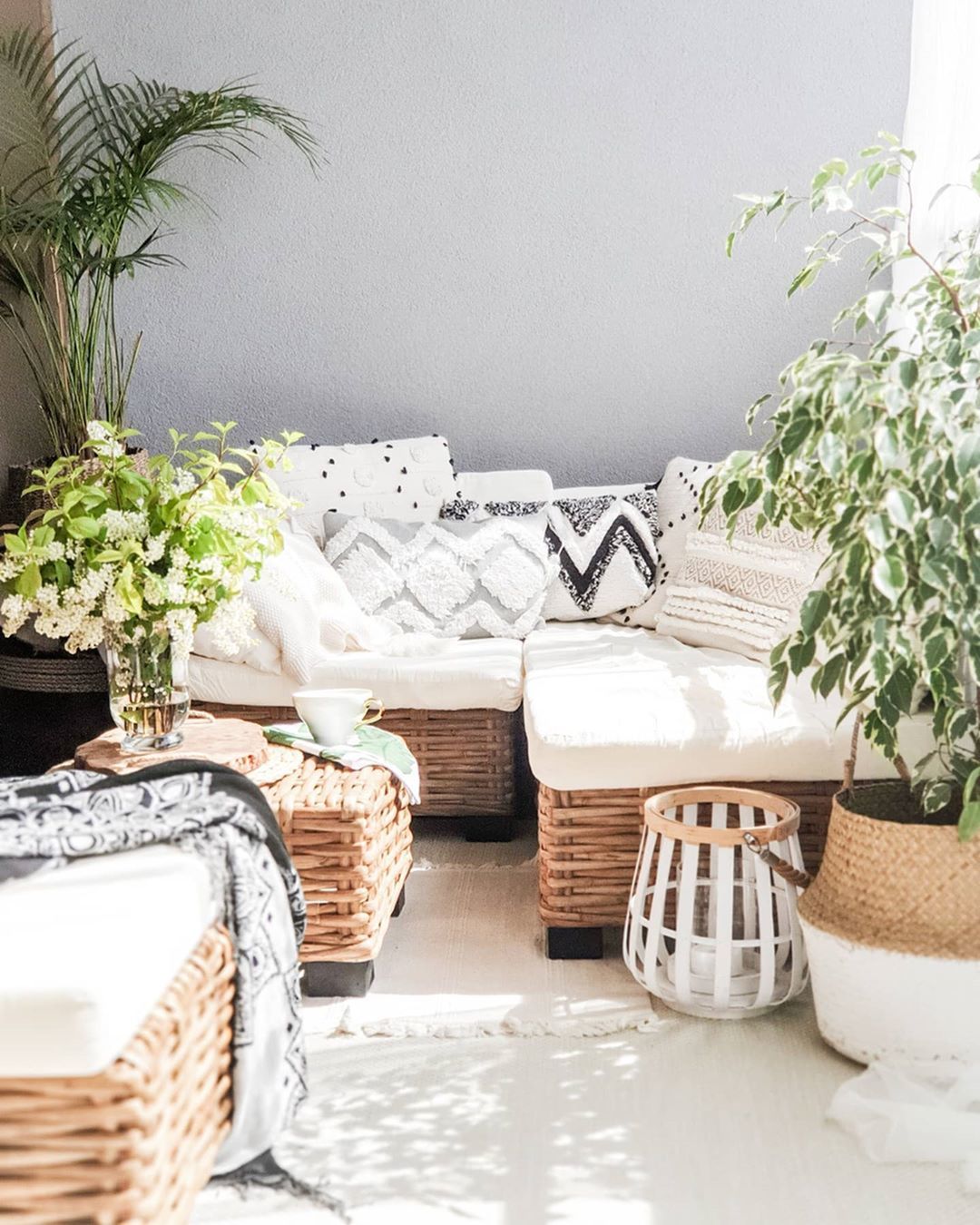 (Photo by @My_Hygge_My_Home)

Patio Decorating 101
You've settled into your new apartment, now it's time to tackle the patio decor. In all honesty, patio decorating is quite simple. It all boils down to a balance of comfort, functionality, vibrance and a touch of desert glam (this is North Phoenix, so cacti and succulents are a must). After mapping out the blueprint of your patio, the next step is finding just the right furniture and working around that. The valley is full of home improvement stores that are geared up and ready for patio weather. Home Depot, Lowes, the Tractor Supply Co. and even the neighborhood Walmart or Safeway offer a variety of outdoor furniture and decor. Pick your favorite, bring it home, and let the fun begin. Assemble your new patio furniture where you had it mapped out before. Then, determine your patio "theme."
Bring your outdoor space to life with a colorful rug, bright throw pillows, a cactus or small palm tree, and twinkle lights. Order online or stop by the North Phoenix Rod Works and design your patio with decor you will love relaxing with. Our tip for a well-balanced patio: Neutral furniture (tans/browns/black/nude) paired with a bright/colorful outdoor rug, matching throw pillows, a touch of greenery, and battery-operated twinkle lights hanging on the walls. *chef kiss* Perfect!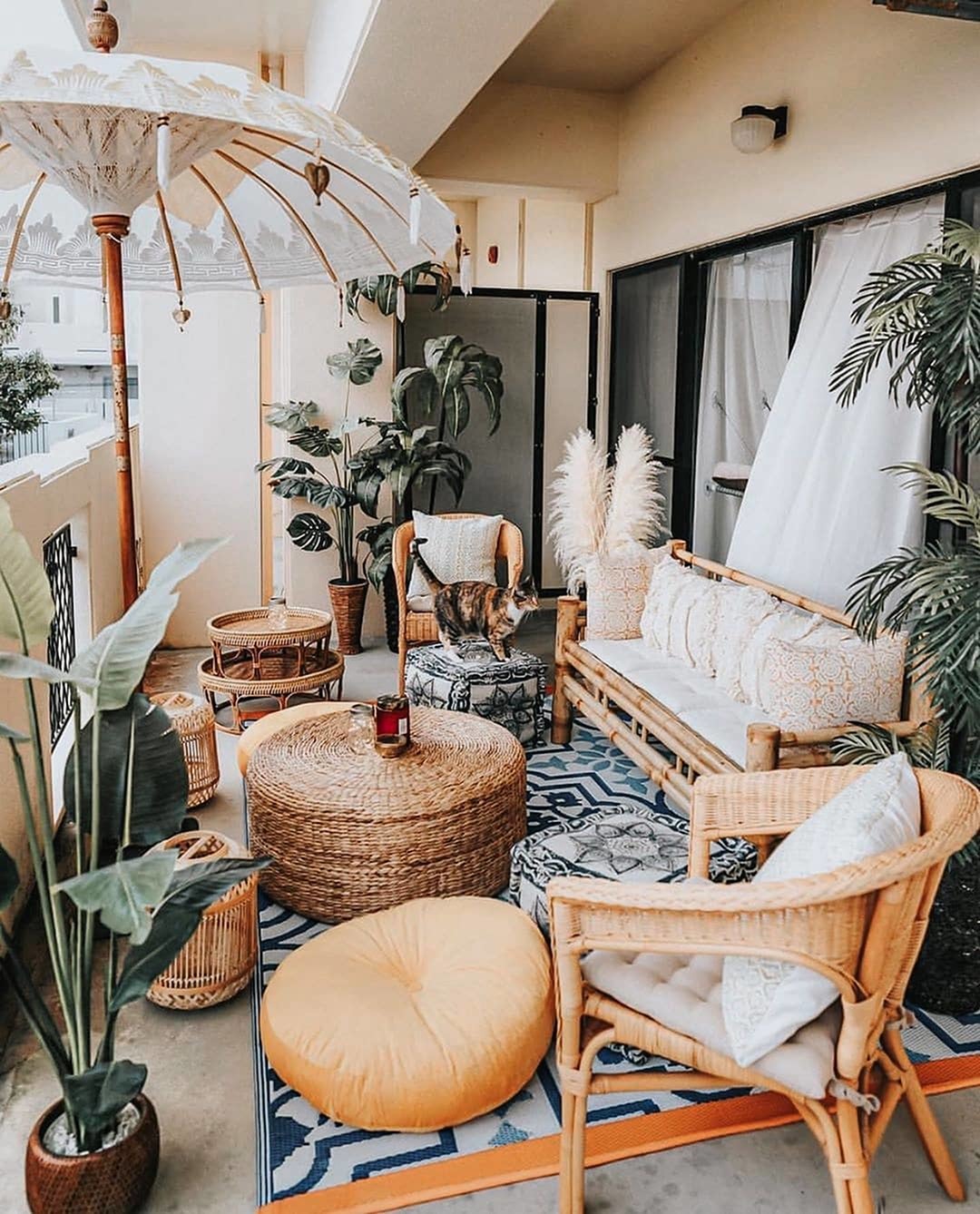 (Photo by @thebohobirdie)



Patio Maintenence

This may seem like a no brainer, but it's always worth a reminder. As you dedicate time and energy to transforming your new patio oasis, it's just as important to keep it clean and maintain it over time. Sweeping your patio and vacuuming the outdoor rug often will make a huge difference in how long it lasts and how long it looks new! Additionally, keep your patio furniture out of direct sunlight when possible, to avoid sun bleaching and tarnish. If hanging lights, be sure to have them in an area of your patio that won't get hit with rain. Speaking of rain, it's a great idea to invest in patio furniture covers to keep your new seating area looking new for many summers to come!

Your patio is the perfect place to start your morning with a cup of coffee, unwind after a long day, chat with a friend on the phone, or read a book while sunbathing. Hopefully you found some of these tips helpful and will have a blast transforming your Acero North Valley patio into your own little oasis. We'd love to see how your patio turns out, so be sure to share before and after photos with us on Facebook or Instagram! While you're at it, keep following the blog here for more posts like this one.